Since leggings are proving to be a style that is here to stay, why not spice it up by rocking some printed more decorative pieces!? Cool patterns can be a definite fashion statement if worn correctly, which is not hard. The key is to keep it simple. Because printed tights carry their own level of pazazz, it pairs perfectly with basic casual clothing and accessories. The last thing you want to do is pair something like pink checkered tights with a equally bold top- the clash could mean fashion catastrophe!
So remember rocking printed tights is a fashion "do" when you balance the look from head-to-toe, and most importantly is rocking them with mucho confidence!
Rock this look:
One of the most simplest ways to wear these funky designed leggings is to pair it with a white tee- you just can't go wrong with this look!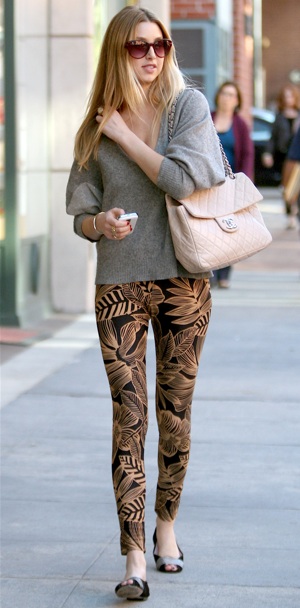 Whitney is always trendy, and rocks a more retro-style pairing her gold leaf pattern leggings with a cropped wool sweater.
Solange rocked starry leggings and made it look totally chic with a button down white blouse and cuffed-blazer. This look is great if you don't want to be too risky. Cute!
Shop This Look Online:
Ecko Red Printed Leggings- $21.99
Buy Now